My involvement with Tau Kappa Epsilon Fraternity
at Missouri Western State University
Motto: "Not for wealth, rank or honor but for personal worth and character"
---
Missouri Western State University - Saint Joseph, Missouri
Xi-Eta Chapter 2000 - 2006
In April 2000, I moved from Ft. Myers, Florida to Saint Joseph, Missouri to take a job at Missouri Western State University. In May 2000, I attended the last meeting of the semester for the Xi-Eta Chapter (which was re-chartered in 1998). I was asked if I would be their Faculty Advisor, which I agreed. In September 2000, their current Chapter Advisor (Brian Weese) decided to step down because he was moving away, so I was elected as Xi-Eta's Chapter Advisor and Dr. David Bennett was elected as their Faculty Advisor (MWSU's Music Department Professor).
As Xi-Eta's Advisor, from 2000 - 2006 . . .
I helped the Chapter by establishing the criteria for a pledge to earn their scroll number, rather than just get a scroll number based upon the alphabetical order by their last name.
I also restructured the Chapter finances, by setting up a Chapter Savings Account for a future house.
I also setup a member payment obligation plan, where all active members had to sign a legal promissory note regarding paying their fraternity dues. The Chapter had a lot of outstanding debt, so as the Chapter Advisor I felt it was my duty to help recover some of that debt. therefore, I went after a few delinquent members for past chapter dues by using a collection agency; which resulted in obtaining a lot of of back dues.
I personally took every active member and new pledge out to a nice restaurant, so I could get to know them better, and for them to have a good meal, rather than eat at the school's cafeteria.
In the Fall 2002 our Pi Class Pledges got in trouble during their initiation week, by running around on campus for a scavenger hunt, wearing only their boxers, in 40 degrees weather in late October....I decided it was time that I setup a Board of Advisors. So in the Spring of 2003 myself and a couple of other senior active members (Zach Ramsay and John Fabsits) talked to some of our local alumni and we set up the Xi-Eta Board of Advisors, as me being the President.

---

Rockhurst University - Kansas City, Missouri - Fall 2003
Kappa-Nu Chapter

In the Fall 2003, I took a one-year federal grant funded position at Rockhurst University in Kansas City, Missouri. While at Rockhurst University, I attended several meetings of the Kappa-Nu Chapter and also assisted their Board of Advisors. I also made the one-hour drive from Kansas City back up to Saint Joseph, Missouri in order to still be an active Chapter Advisor to the Xi-Eta Chapter.

---

The Tau Kappa Epsilon Western Missouri Province - 2002 - 2003

From 2002 - 2003 I was assisting Todd Barrent (currently living in Kansas City, and working as an attorney; and also is an Alumni of Rockhurst University Kappa-Nu Chapter) with assisting him to bring about a sense of unity of all three Western Missouri TKE Chapters of: Northwest Missouri State (Delta-Nu), Missouri Western State University (Xi-Eta) and Rockhurst University (Kappa-Nu).

---
During my tenure as advisor to the Xi-Eta Chapter, the Chapter received the Missouri Western State University's Fraternity of the Year Award 6 consecutive years from 2002 - 2007 !!!
Because of all my hard work, compassion and dedication, I also personally received the first award from Missouri Western State University's Greek Council, as the Fall 2003 - Spring 2004 Most Outstanding Greek (Fraternity) Advisor Award. Click here to view the award (PDF)
In July 2007, the National Tau Kappa Epsilon Fraternity Headquarters awarded me the Volunteer of the Month (July 2007) Award. Click Here to Read the Letter of Nomination (PDF)
In the Fall of 2004, I took a full-time job at Oakland University in Rochester, Michigan (a very nice suburb of Detroit, Michigan). However, at least once a semester, I would still fly back to attend Xi-Eta's Chapter's Fall initiation and also to host a Xi-Eta Board of Advisors Meeting. At the end of 2006, I decided after 6 years, that it was time for the Xi-Eta Chapter to have a new Chapter Advisor.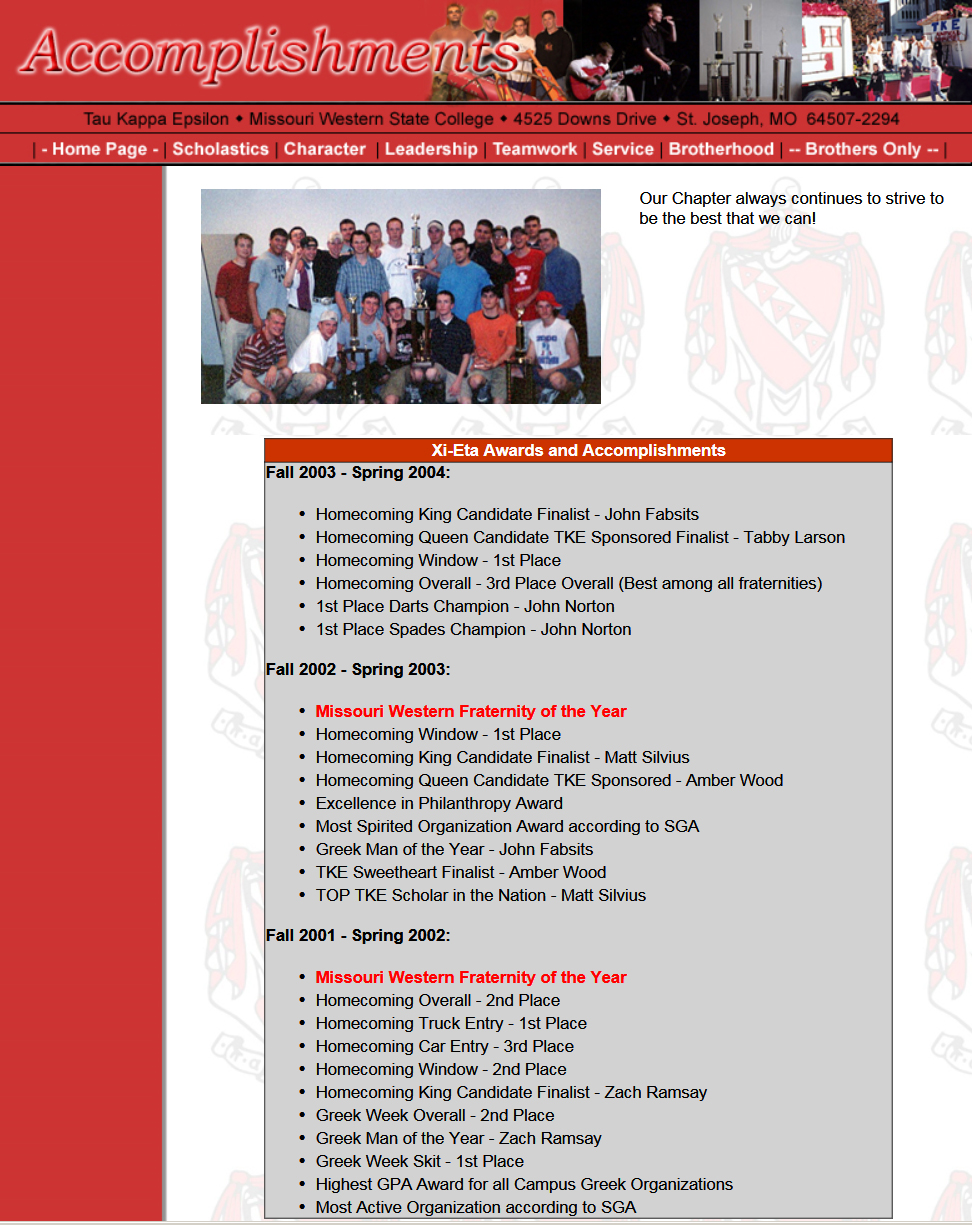 A List of All Xi-Eta Chapter's Accomplishments
Fall 2006 - Spring 2007
Missouri Western Fraternity of the Year
Outstanding Scholarship Program
Outstanding Recruitment Program
Greek Man of the Year - Cody Root
Outstanding New Member Award - Larry L. Motley Jr.
Chapter Advisor of the Year - Bob Bergland
Award of Excellence for Community Service & Outreach (National TKE Award)
Award of Excellence for Extracurricular Involvement & Achievement (National
TKE Award)
Award of Excellence for Recruitment Results (National TKE Award)
Award of Excellence for Initiation Rates (National TKE Award)
Award of Excellence for Alumni Involvement and Relations (National TKE Award)
Harvest Hero Award, Second Harvest Food Bank (Community Award)
Homecoming King Candidate Finalist - Logan Compton
Homecoming Queen Candidate TKE Sponsored - Ally Browning, SSS
Homecoming Car Entry - 3rd Place
Homecoming Window - 3rd Place

Fall 2005 - Spring 2006
Missouri Western Fraternity of the Year
Most Active Organization Award
Glen Marion Service Award
Outstanding Recruitment Program
Outstanding Educational Program
Greek Collaboration Award
Greek Involvement Award - Logan Compton
Greek Week Overall - 3rd Place
Greek Olympics - 1st Place
Greek Week Lipsync - 3rd Place
Greek Week Talent Show - 4th Place
Greek Week Variety Show - 3rd Place
Greek God - Vern Wheeler
Award of Excellence for Community Service & Outreach (National TKE Award)
Award of Excellence for Average Chapter Size (National TKE Award)
Award of Excellence for Extracurricular Involvement & Achievement (National
TKE Award)
Award of Excellence for Recruitment Results (National TKE Award)
Award of Excellence for Initiation Rates (National TKE Award)
Award of Excellence for Alumni Involvement and Relations (National TKE Award)
Rush Expo - 1st Place (Won at National TKE Convention)
Homecoming Queen Candidate TKE Sponsored - Elizabeth Needham
Homecoming Window - 1st Place
Homecoming Yell Like Hell w/ASA - 2nd Place
Harvest Hero Award, Second Harvest Food Bank (Community Award)
Greek Quiz Bowl - 1st Place
Phi Mu's Greek Gods - 2nd Place

Fall 2004 - Spring 2005
Missouri Western Fraternity of the Year
Excellence in Scholarship Award
Excellence in Recruitment Award
Excellence in Community Service Award
Most Active Organization Award
TKE Nominee for Greek Woman of the Year - Erin Wilson, AGD
Humanitarian Award, Second Harvest Food Bank (Community Award)
Harvest Hero Award, Second Harvest Food Bank (Community Award)
Award of Excellence for Community Service & Outreach (National TKE Award)
Most Improved Chapter (National TKE Award)
Phi Mu's Greek Gods - 1st Place
Phi Mu Kickball Tournament - 3rd Place
Homecoming Queen Candidate TKE Sponsored - Stefanie Summa, SSS
Homecoming King Candidate AGD Sponsored - Jesse Holcomb
Homecoming Window - 1st Place
Homecoming Car Entry - 3rd Place
Homecoming Overall - 2nd Place Overall (Best among fraternities)

Fall 2003 - Spring 2004
Missouri Western Fraternity of the Year
Excellence in Scholarship Award
Excellence in Recruitment Award
MWSU Greek Advisor of the Year Award - Greg Gallup
TKE Nominee for Greek Woman of the Year - Kristen Neeley, ASA
Homecoming King Candidate Finalist - John Fabsits
Homecoming Queen Candidate TKE Sponsored Finalist - Tabby Larson, ASA
Homecoming Window - 1st Place
Homecoming Overall - 3rd Place Overall (Best among fraternities)
Intramural Darts Champion - John Norton
Intramural Spades Champion - John Norton
Most Spirited Organization Award according to SGA
SGA's Dean Hoff Outstanding Achievement Awards - John Fabsits, Sr.
SGA's Dean Hoff Outstanding Achievement Awards - Jesse Holcomb, Fr.
TKE Sweetheart - Erin Burke, ASA

Fall 2002 - Spring 2003
Missouri Western Fraternity of the Year
Greek Man of the Year - John Fabsits
Excellence in Philanthropy Award
Homecoming Window - 1st Place
Homecoming King Candidate Finalist - Matt Silvius
Homecoming Queen Candidate TKE Sponsored Finalist - Amber Wood, ASA
Most Spirited Organization Award according to SGA
Greek Woman of the Year, TKE sponsored - Amber Wood, ASA
TKE Sweetheart Finalist - Amber Wood, ASA
TOP TKE Scholar in the Nation - Matt Silvius
Intramural Greek Football Champs

Fall 2001 - Spring 2002
Missouri Western Fraternity of the Year
Excellence in Scholarship Award
Most Active Organization according to SGA
Homecoming Overall - 2nd Place (Best among fraternities)
Homecoming Truck Entry - 1st Place
Homecoming Car Entry - 3rd Place
Homecoming Window - 2nd Place
Homecoming King Candidate Finalist - Zach Ramsay
Springfest Karaoke - 3rd Place
Greek Week Overall - 2nd Place
Greek Week Talent - 1st Place
Greek Man of the Year - Zach Ramsay
Greek Woman of the Year, TKE sponsored - Beth Tuttle, AGD
Intramural Greek Football Champs

Fall 2000 - Spring 2001
2nd Place Most Active Organization according to SGA
Excellence in Scholarship Award
Greek Man of the Year - Zach Ramsay
Greek Woman of the Year, TKE sponsored - Dixie Sullenger, AGD

Fall 1999 - Spring 2000
Greek Man of the Year - Scott Coleman
Greek Week Skit - 1st Place
1st Place Three Point Shootout
1st Place Horse Competition
1st Place Free Throw Competition
1st Place Wiffleball

Fall 1998 - Spring1999
National Charter gained January 10, 1999
1st Place Horse Competition
1st Place Free Throw Competition

Fall 1997 - Spring1998
1st Place Free Throw Competition
---